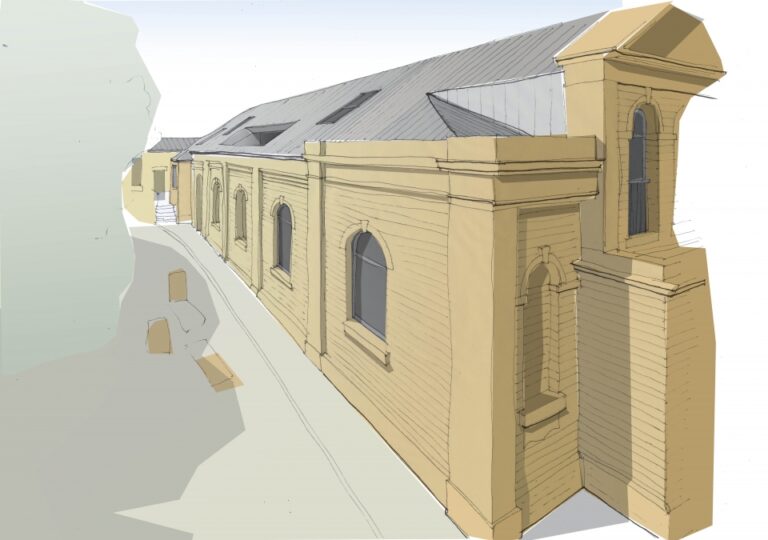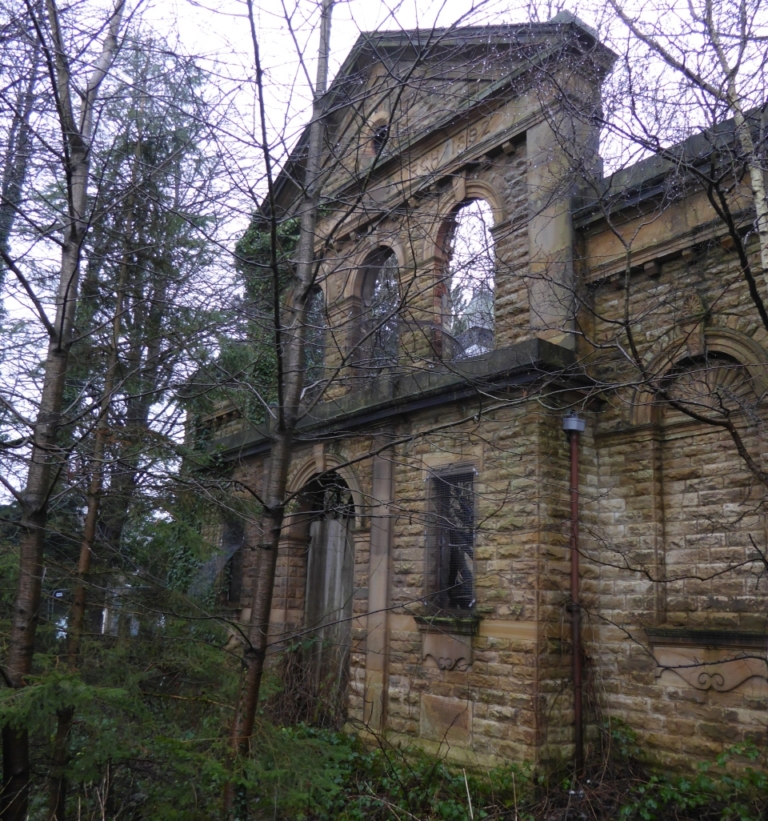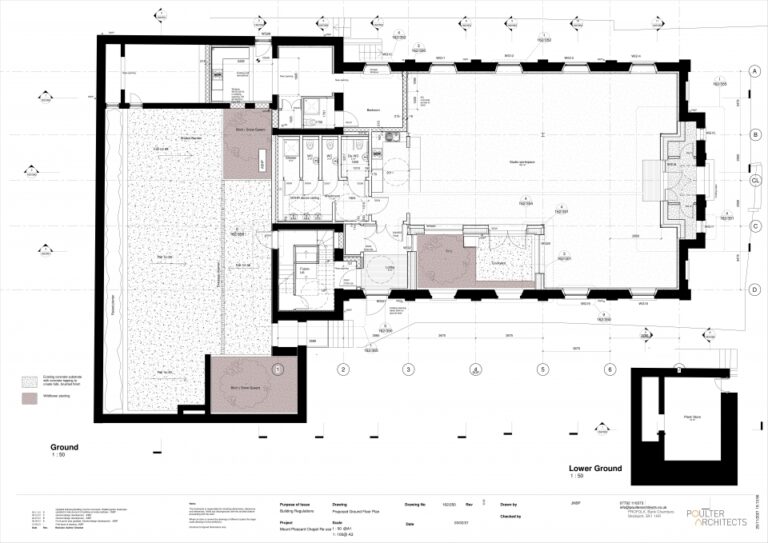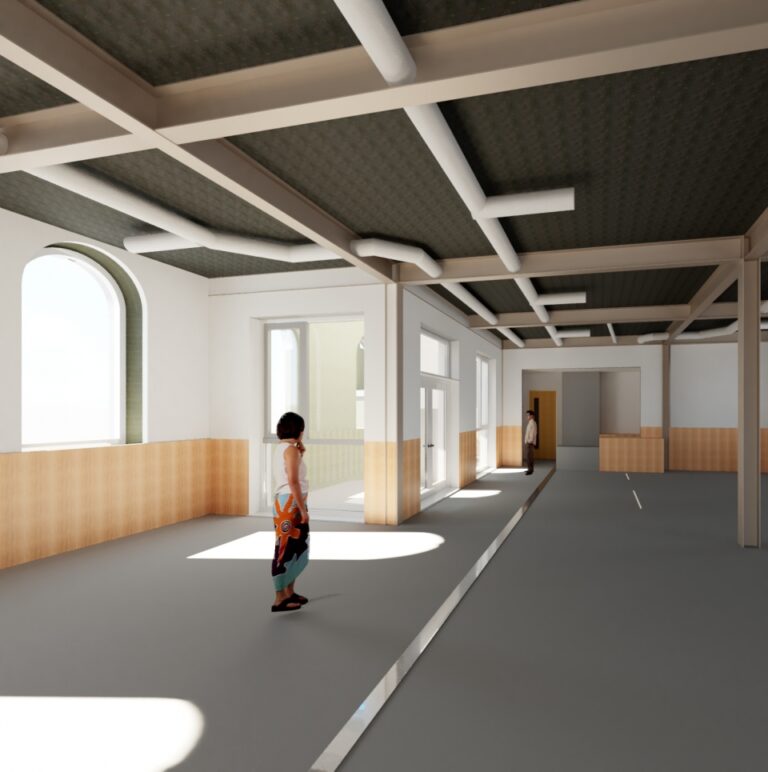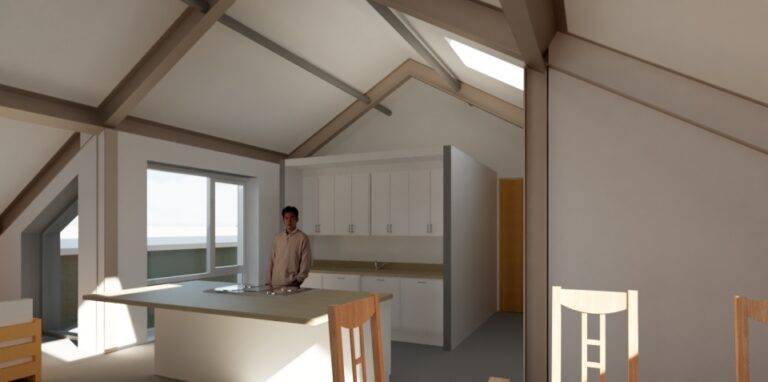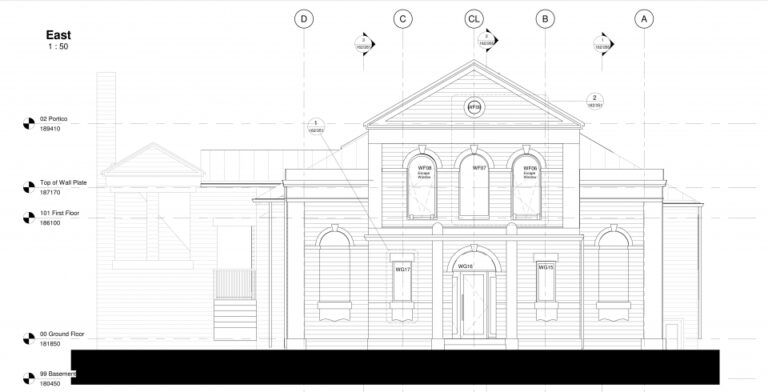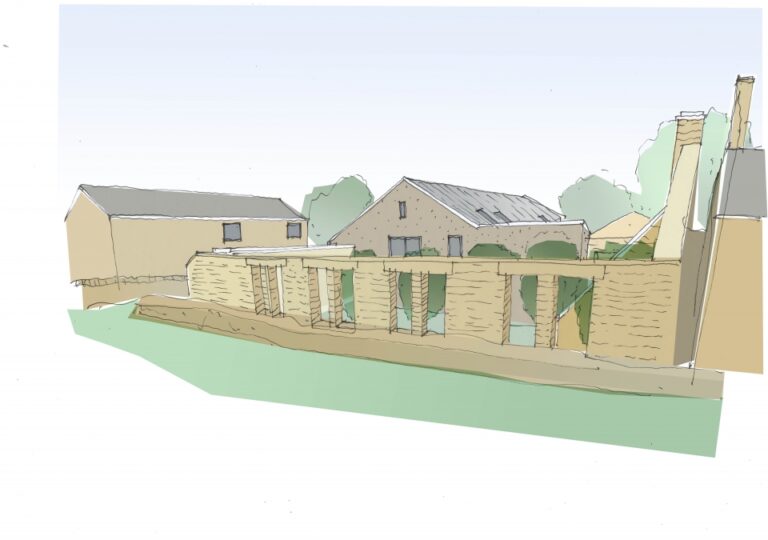 The Mountpleasant Methodist chapel in New Mills  is a classical revival building whose interior and roof was  destroyed by fire in 1993. Amazingly the external walls have remained standing, hidden amongst an overgrown graveyard.
A local artist purchased the land and buildings and commissioned Poulter Architects to design.
a commercial space on the ground floor providing flexible facilities including gallery space and rentable desks/ workspace for small creative businesses.
a small self-contained studio to let, for an artist or holidays.
their own dwelling on the upper floor.
Our approach is not one of faithful restoration, rather we want to retain some of the character of the ruin and distinguish the new elements from the old, mainly through the materials that are used. The building then becomes a palimpsest, a layering of elements that in their own way tell the history of the building, from its original construction, through to its destruction by fire, and its rebirth into a new use.
New elements such as the roof and windows will follow the original built form, except that they will be unified in being a neutral grey colour. This will include a terned steel roof, new windows within the existing openings and a render finish to the new walls.
Some of the characteristics of the existing ruin are replicated in the design, including  a courtyard garden with planting seen through the existing unglazed façade with an open roof over and a walled garden, within the rear Sunday school an internal, external space.
As part of these proposals the whole fabric will be upgraded thermally and work towards the Enerphit standard using the elemental approach. This approach recognises the difficulties of reaching the 25KWh/m² annum due to the inherent thermal bridging and risks of internally insulating solid walls, and instead sets performance criteria for the thermal elements.
The project will also use an Air Source Heat Pump for heating and hot water as well as generating energy from solar PV that is discretly hidden from view at the rear of the buildings.
The project started on site in 2021.
Treated Floor Area: 185.5 m² (Commercial) 187.8m² (dwelling)
Annual Heating Demand: 37 KWh/m² (Commercial) 25 KWh/m² (dwelling)
Peak Heating Load:  21 W/m² (Commercial) 17 W/m² (dwelling)
Frequency of overheating:  (> 25­°C) 0 %
Airtightness:    1 ac/[email protected]
Primary Energy Renewable Demand:  84 KWh/(m²annum) (Commercial) 48 KWh/(m²annum) (dwelling)
On site renewable energy generated :   1500 KWh/annum
Embodied Carbon : TBC kgCO2e/m²
Location: New Mills
Architect: Poulter Architects
Start on site: 2021
Contractor:  Self Build
Stuctural Engineer: Renaissance
Construction Value:  TBC
Photography:  Poulter Architects